Fire Protection for Pneumatic Extraction and Conveying Equipment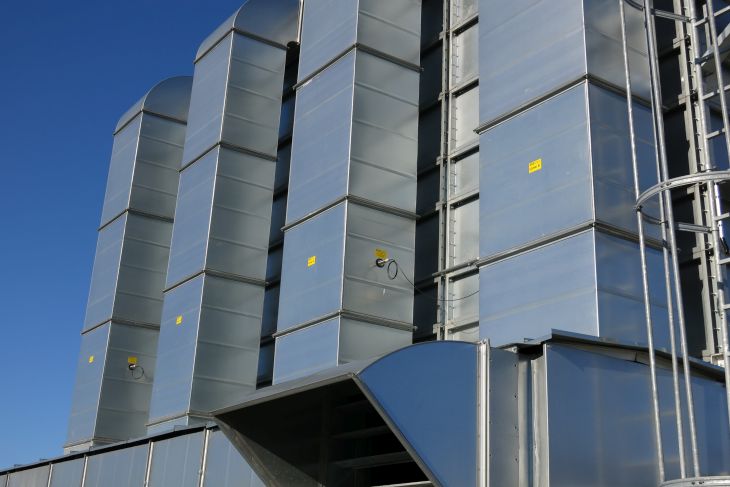 In pneumatic transport systems and mechanical conveying systems in which flammable materials are transported, fires and filter explosions often occur.
The sparks are mostly caused by the machines in use, or caused through material contamination. The danger to human life, loss of production and high property damage are the consequences.
To eliminate this risk, extraction systems must be monitored and protected by spark extinguishing systems.
When installing such systems that comply with the guidelines of the association of property insurers (VdS 2106), a grant of up to 15% discount can be offered.
Spark extinguishing systems detect dangerous situations at an early stage.
In pneumatic conveying lines, signalling systems and extinguishing devices should be installed behind the fan, as sparks can also be generated here.
The spark detectors detect the slightest infrared rays and forward this information to the control centre.
From here, only milliseconds later, the extinguishing system is activated and water is fed in via special nozzles. The sparks pass through the extinguishing fog and are then quenched.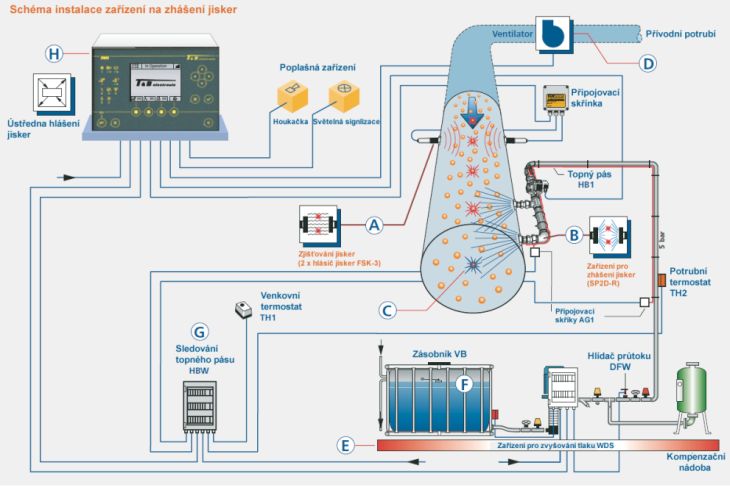 Application area for spark extinguishing systems:
Asphalt processing
Battery production
Component manufacturing
Cotton industry
Chemical industry
Window factories
Firing plants
Food industry
Furniture industry
Grain mills
Glass industry
Rubber industry
Industrial bakeries
Sawdust industry
Wood processing plants
Coffee roasting factories
Carbon dust extraction factories
Plastics industry
Kitchen furniture industry
Power stations
Leather industry
Metal industry
Milk powder drying
Furniture industry
Waste incineration plants
Paper mills
Tyre industry
Plywood plants
Shipyards
Chocolate industry
Tobacco industry
Textile industry
Carpenter industry
Cellulose industry
Sugar industry